La Alejandría de Hipacia
Clelia Martínez Mazza

Escuela de Historia/UNR
Resumen
Se ofrece en este trabajo un panorama del papel de Alejandría en la escena socioreligiosa del mundo tardoantiguo: la hegemonía cultural de su escuela filosófica, el creciente ascenso de la comunidad cristiana, la tormentosa relación entre la autoridad política y el obispo, el conflicto entre comunidades y la marginalización de los paganos y finalmente la muerte de Hipacia. Palabras clave: Cristianismo; Paganismo; Neoplatonism; Astronomía; Matemáticas. 
Citas
Athanassiadi, P. (1999). The Chaldean Oracles: Theology and Theurgy. En P. Athanassiadi& M. Frede (eds.). Pagan Monotheism in Late Antiquity. Oxford: Clarendon Press.
Aujoulat, N. (1986). Le néoplatonismealexandrin. Hiéroclèsd'Alexandrie. Filiations intellectuelles et spirituelles d'un néo-platonicien du Ve siècle. Leiden: Brill.
Bagnall, R. (1993). Egypt in LateAntiquity. Princeton: Princeton University Press.
Blázquez Martínez, J.M. (2004). Sinesio de Cirene, intelectual. La escuela de Hypatia en Alejandría. Gerión 22.
Blumenthal, H. (1993). Alexandria as a Centre of Greek Philosophy in Later Classical Antiquity. Illinois Classical Studies 18.
Bregman, J. (1990). Synesius of Cyrene: 'philosopher'-bishop?.Ancient Philosophy 10.
Carrié, J.M. (1998). Archives municipales et distributions alimentaries dans l'Égypte romaine. En C. Moatti (ed.). La memoire perdue: Recherches sur l'administration romain.
Cribiore, R. (2001). Gymnastics of the Mind. Greek Education in Hellenistic and Roman Egypt. Princeton: Princeton University Press.
Deakin,M.A.B. (1994). Hypatia and Her Mathematics. The American Mathematical Monthly 101.3.
Des Places, E. (1984). Les oracleschaldaïques. En H. Temporini& W. Haase (eds.). Aufstieg und Niedergang der römischen Welt, II, 17, 4: Principat, Religion. Berlin; New York: de Gruyter.
Dillon, J. (1977). The Middle Platonist 80 B. C. to A. D. 220. Ithaca: Cornell University Press.
Fowden, G. (2005). The World-view. En A. K. Bowman, P. Garnsey & A. Cameron (eds.). Cambridge Ancient History. XII. The Crisis of Empire, A.D. 193-337. Cambridge: Cambridge University Press.
Haas, C. (1997). Alexandria in Late Antiquity. Topography and social Conflict. Baltimore; London: The John Hopkins University Press.
Hadot, I (1978). Le problème du NéoplatonismeAlexandrin: Hiroclés et Simplicius. París: Étudesaugustiniennes.
Kelly, C. (1998). Emperors, Government and Bureaucracy. En A. Cameron & P. Garnsey (eds.). Cambridge Ancient History, XIII. The Late Empire, A. D. 337-425. Cambridge: Cambridge University Press.
Kingsley, P. (1995). Ancient Philosophy, Mystery and Magic: Empedocles and Pythagorean Tradition. Oxford: Clarendon Press.
Knorr, W.R. (1989). Textual Studies in Ancient and Medieval Geometry. Boston; Basel; Berlín: Birkhaüser.
Lewy, Y. (1978). Chaldean Oracles and Theurgy. París: ÉtudesAgustiniennes.
Liebeschuetz, J.H.W.G. (2000). Religion. En A. K. Bowman, P. Garnsey &D. Rathbone (eds.). Cambridge Ancient History, XI. The High Empire, A.D. 70-192. Cambridge, 2nd ed.: Cambridge University Press.
Marcone, A. (1998). Late Roman Social Relations. En A. Cameron & P. Garnsey (eds.). Cambridge Ancient History, XIII. The Late Empire, A. D. 337-425. Cambridge: Cambridge University Press.
Marrou, H.I.(1989). Sinesio de Cirene y el neoplatonismo alejandrino. En A. Momigliano (ed.). El conflicto entre paganismo y cristianismo. Madrid: Alianza Editorial.
Martínez Maza, C. (2005). La destrucción del Serapeo de Alejandría como paradigma de la intervención cristiana. ARYS 2.
Martínez Maza, C. (2009). Hipatia: la estremecedora historia de la última gran filósofa de la Antigüedad y la fascinante ciudad de Alejandría Madrid: La Esfera de los Libros.
Martínez Maza, C. (2014a). Christian Paideia in Early Imperial Alexandria. En L.A. Guichard, J.L. García Alonso & M.P. de Hoz (eds.). The Alexandrian Tradition: Interactions between Science, Religion and Literature. Frankfurt; Berna: Peter Lang.
MARTÍNEZ MAZA, C. (2014b).Une victime sansimportance? La mort de la philosopheHypatie. En M-F. Baslez (dir.) Chrétienspersécuteurs. Destructions, exclusions et violencesreligieuses au IVe siècle. París: ÉditionsAlbin Michel.
MARTÍNEZ MAZA, C. (2019). Hipatia: la auctoritas de una científica como amenaza. MujeresPeligrosas. Madrid: Dyckinson.
O'Meara, D. (1989). Pythagoras Revived: Mathematics and Philosophy in Late Antiquity. Oxford: Clarendon Press.
Rome, A. (1931-1943). Commentaires de Pappus et de Théond'Alexandrie sur l'Almagest, 3 vols. Città del Vaticano: Biblioteca Apostolica Vaticana.
Rougé, J. (1987). Les débuts de l'episcopat de Cyrilled'Alexandrie et le CodeThéodosien. En J. Poiulloux (ed.) Alexandrina. Mélanges offerts à P.Cl. Mondesert. París:Éditions du Cerf.
Rougé, J. (1990). La politique de Cyrilled'Alexandria et la meurted'Hypatie. Cristianesimonellastoria 11.
Schwarz, J. (1966). La fin du Sérapéumd'Alexandrie. American Studies in Papyrology 1.
Shaw, G (1995). Theurgy and the Soul: The Neoplatonism of Iamblichus. University Park. Pennsylvania State University Press.
Sheppard, A. (2000). Philosophy and Philosophical Schools. En A. Cameron, B. Ward-Perkins & M.Whitby (eds.). Cambridge Ancient History. XIV. Late Antiquity: Empire and Successors A. D. 425-600. Cambridge: Cambridge University Press.
Swetz, F. J. (1994). Learning Activities from the History of Mathematics. Portland: J. Weston Walch.
Tihon, A. (1978). Le «Petit Commentaire» de Théond'Alexandrie aux tables faciles de Ptolemée. Città del Vaticano: Biblioteca ApostolicaVaticana.
Toomer, G.J. (1987). Ptolemy'sAlmagest. Londres: Duckworth.
Van Liefferinge, C. (1999). La théurgie des OraclesChaldaïques à Proclus. Lieja: Presses Universitaires de Liège.
Waithe, M.E. (ed.) (1987). Hypatia of Alexandria. A History of Women Philosophers 1/600 BC-500 AD., Dordrecht: Springer.
Watts, E. (2006). City and School in Late Antique Athens and Alexandria. Berkeley: Oxford University Press.
WATTS, E. J. (2017). Hypatia. The Life and Legend of an Ancient Philosopher. Oxford: Oxford UniversityPress.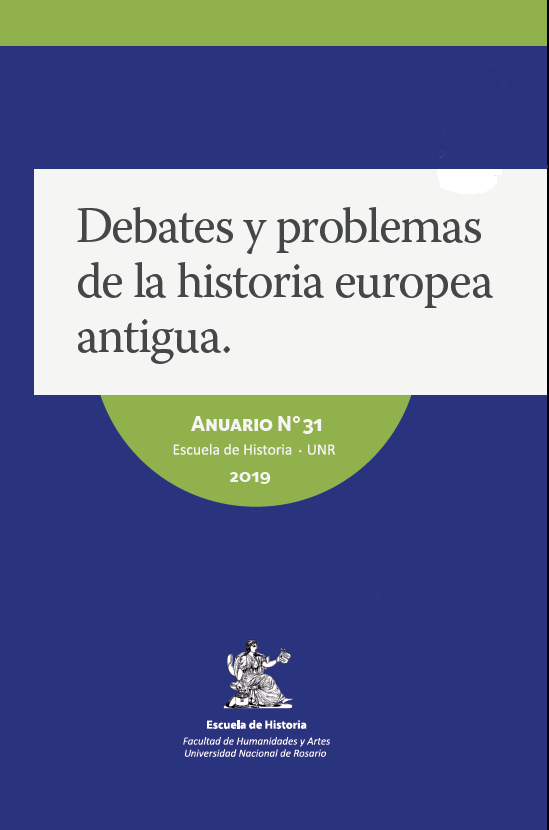 Cómo citar
Martínez Mazza, C. (2019). La Alejandría de Hipacia. Anuario De La Escuela De Historia, (31). https://doi.org/10.35305/aeh.v0i31.279
Derechos de autor 2019 Clelia Martínez Mazza
Esta obra está bajo licencia internacional
Creative Commons Reconocimiento-NoComercial-CompartirIgual 4.0
.
Los autores que publican en esta revista están de acuerdo con los siguientes términos:
Al momento de enviar sus contribuciones, los colaboradores deberán autorizar su publicación conservando los derechos de autoría, y transfiriendo a la revista todos los derechos protegidos por las leyes de propiedad intelectual que rigen en Argentina, que implican la edición para difundir la obra en soporte digital en que se aloja la revista. Deberán declarar que poseen el permiso del archivo o repositorio donde se obtuvieron los documentos que se anexan al trabajo, cualquiera sea su formato (manuscritos inéditos, imágenes, archivos audiovisuales, etc.), permiso que los autoriza a publicarlos y reproducirlos, liberando a la revista y sus editores de toda responsabilidad o reclamo de terceros.
Asimismo, los autores deben adherir a la licencia Creative Commons denominada "Reconocimiento - No Comercial- Compartir Igual CC BY-NC-SA", mediante la cual el autor permite copiar, reproducir, distribuir, comunicar públicamente la obra y generar obras derivadas, siempre y cuando se cite y reconozca al autor original. No se permite, sin embargo, utilizar la obra con fines comerciales. Los autores podrán establecer acuerdos adicionales para la distribución no exclusiva de la versión de la obra publicada en la revista (por ejemplo, situarlo en un repositorio institucional o publicarlo en un libro), con el reconocimiento de haber sido publicado primero en esta revista.