Amos fugados y subordinados sin guía. Esclavos, familia e Iglesia durante las persecuciones de Decio y Valeriano (250-260)
Resumen
 A mediados del siglo III el cristianismo cobró una relevancia urbana que alteró el orden comunitario. Las persecuciones de Decio (250-251) y Valeriano (257-260) llevaron a un reconocimiento tácito de los jerarcas cristianos y consolidaron una retórica nueva sobre la disciplina comunitaria. La figura del esclavo adopta un lugar especial en los escritos cristianos del periodo. Nuestro objetivo será analizar esos discursos a fin de observar la inserción de los esclavos en la red eclesiástica y cómo eran considerados por los obispos e intelectuales. Para nuestro propósito recurriremos a variadas fuentes, principalmente a Cipriano de Cartago; también tomaremos datos provistos por Novaciano, correspondientes a la comunidad de Roma, Dionisio de Alejandría, Comodiano, ciertas actas martiriales y tratados como las dos Epístolas sobre la Virginidad.Palabras clave: Persecución; Esclavitud; Cristianismo en el siglo III; Cipriano de Cartago; Dionisio de Alejandría
Descargas
Los datos de descargas todavía no están disponibles.
Citas
Ameling, Walter; "The Christian lapsi in Smyrna, 250 A.D. ("Martyrium Pionii" 12-14)"; en Vigiliae Christianae V. 62, N° 2, Leiden; 2008; pp. 133-160.
Bardy, Gustave; Eusèbe de Césarée: Histoire Ecclésiastique. 3 Vols.; Cerf; Paris; 1952-1958.
Barnes, Timothy D.; "Pre-Decian Acta Martyrum"; en Journal of Theological Studies V. 19; Oxford; 1968; pp. 509-531.
Baslez, Marie-Françoise; Les persecutions dans l´antiquité. Victimes, héros, martyrs; Fayard; Paris; 2007.
Bayard, Louis; Saint Cyprien. Correspondance. Vols. 1-2.; Les Belles Lettres; Paris; 1925.
Bobertz, Charles A.; "The Role of Patron in the Cena Dominica of Hippolytus Apostolic Tradition"; en Journal of Theological Studies V. 44; Oxford; 1993; pp. 170-184.
Boeft, Jan den. – Bremmer, Jan; "Notiunculae Martyrologicae III. Some Observations on the Martyria of Polycarp and Pionius"; en Vigiliae Christianae V. 39, N° 2; Leiden; 1985; pp. 110-130.
Bradley, Keith; Esclavitud y sociedad en Roma; Península; Barcelona; 1998.
Brent, Allen; Cyprian and Roman Carthage; Cambridge University Press; Cambridge; 2010.
Brown, Peter; The Making of Late Antiquity; Harvard University Press; Cambridge-Massachussets; 1978.
Bryant, Joseph M.; "The Sect-Church Dynamic and Christian Expansion in the Roman Empire: Persecution, Penitential Discipline, and Schism in Sociological Perspective"; en The British Journal of Sociology V. 44, N° 2; London; 1993; pp. 303-339.
Buell, Denise Kimber; "Race and Universalism in Early Christianity"; en Journal of Early Christian Studies V. 10, N° 4; Johns Hopkins University Press; 2003; pp. 429-486.
Burns, J. Patout; Cyprian the Bishop; Routledge; London; 2002.
Burns, J. Patout – Jensen, Robin M.; Christianity in Roman Africa. The Development of its Practices and Beliefs; Eerdmans; Grand Rapids-Michigan; 2014.
Butler, Rex D.; The New Prophecy & "New Visions". Evidence of Montanism in The Passion of Perpetua and Felicitas; The Catholic University of America Press; Washington D.C.; 2006.
Byron, John; Slavery Metaphors in Early Judaism and Pauline Christianity; Mohr Siebeck; Tübingen; 2003.
Carrié, Jean-Michel – Rouselle, Aline; L´Empire romain en mutation des Sévères à Constantin. 192-337; Points; Paris; 1999.
Castelli, Elizabeth A.; Martyrdom and Memory. Early Christian Culture Making; Columbia University Press; New York; 2004.
Clarke, Graeme W.; "Some observations on the Persecution of Decius"; en Antichthon V. 3; Australian Society for Classical Studies; 1969; pp. 63-76.
Cotterill, J. M.; Modern Criticism and Clement´s Epistles to Virgins; Portobello; Edinburgh; 1884.
Countryman, L. William; The Rich Christian in the Church of the Early Empire: Contradictions and Accomodations; Edwin Mellen Press; New York; 1980.
Courcelle, Pierre; "Commodien et les invasions du Vº siècle"; en Revue des Études Latines V. 24; Société Des Études Latines; 1946; pp. 227-246.
Delehaye, Hippolyte.; Les passions des martyrs et les genres littéraires; Société des Bollandistes; Bruxelles; 1921.
Dunn, Geoffrey D.; "The White Crown of Works: Cyprian´s Early Pastoral Ministry of Almsgiving in Carthage"; en Church History V. 73/4; Cambridge; 2004; pp. 715-740.
Duquenne, Luc; "Chronologie des lettres de Saint Cyprien. Le dossier de la persécution de Dèce"; en L´Antiquité Classique V. 42/2; Association L´Antiquité Classique; 1973; pp. 663-664.
Evers, Alexander; Church, Cities and People. A Study of the Plebs in the Church and Cities in Roman Africa in Late Antiquity; Peeters Publishers; Leuven–Walpole; 2010.
Fernández Ubiña, José; "Comportamientos y alternativas cristianas en una época de crisis: el testimonio de Cipriano"; en Memorias de Historia Antigua V. 5; Universidad De Oviedo; 1981; pp. 220-221.
Finley, Moses I.; Ancient Slavery and Modern Ideology; Markus Weiner; Princeton- NJ; 1998.
Freeman, Charles; A New History of Early Christianity; Yale University Press; New Haven; 2009.
Frend, William Hugh Clifford; Martyrdom and Persecution in the Early Church. A Study of a Conflict from the Maccabees to Donatus; Baker Book House; Grand Rapids-Michigan; 1981 [1965].
García Mac Gaw, Carlos Guillermo; "Roma: la crisis del siglo III y el modo de producción tributario"; en Anales de Historia Antigua y Medieval V. 35; Universidad de Buenos Aires; 2003; pp. 97-119.
García Mac Gaw, Carlos Guillermo; Le problème du baptême dans le schisme donatiste; Diffusion de Boccard; Bordeaux; 2008.
Gibson, E. Leigh; "Jewish Antagonism or Christian Polemic. The Case of the Martyrdom of Pionius"; en Journal of Early Christian Studies V. 9; Johns Hopkins University Press; 2001; pp. 339-358.
Glancy, Jennifer; Slavery in Early Christianity; Fortress Press; Philadelphia; 2006.
González Salinero, Raúl; Las persecuciones contra los cristianos en el Imperio Romano; Signifer Libros; Madrid; 2005.
Haas, Christopher J.; "Imperial Religious Policy and Valerian´s Persecution of the Church, A.D. 257-260"; en Church History V. 52; Cambridge; 1983; pp. 133-144.
Hällstrom, Gunnar af; Fides Simpliciorum According to Origen of Alexandria; Societas Scientiarum Fennica; Helsinki; 1984.
Harrill, J. Albert; The Manumission of Slaves in Early Christianity; Mohr Siebeck; Tübingen; 1995.
Harrill, J. Albert; Slaves in the New Testament. Literary, Social, and Moral Dimensions; Fortress Press; Minneapolis; 2006.
Hilhorst, Anthony; "Martyrium Pionii"; en Antoon A. R. Bastiaensen et alii (eds.); Atti e passioni dei martiri; Mondadori; Milano; 1987.
Hopkins, Keith; "Christian Number and Its Implications"; en Journal of Early Christian Studies V. 6/2; Johns Hopkins University Press; 1998; pp. 185-226.
Jones, Christopher P.; "Flavia Politta and Manilius Fuscus"; en Classical Philology V. 84/2; The University of Chicago Press; 1989; pp. 129-136.
Keresztes, Paul; "The Decian Libelli and Contemporary Literature"; en Latomus V. 34; 1975; pp. 761-781.
Keresztes, Paul; "Two Edicts of the Emperor Valerian"; en Vigiliae Christianae V. 29; Leiden; Société d´Études Latines de Bruxelles; 1975a; pp. 81-95.
Klawiter, Frederick C.; "The Role of Martyrdom and Persecution in Developing the Priestly Authority of Women in Early Christianity: A Case Study of Montanism"; en Church History V. 49/3; Cambridge; 1980; pp. 251-261.
Knipfing, John R.; "The Libelii of the Decian Persecution"; en Harvard Theological Review V. 16/4; Cambridge-MA; 1923; pp. 345-390.
Kozlowski, Jan M.; "The Portrait of Commodus in Herodian´s "History" (1,7,5-6) as the Source of Pionius´ post mortem Description in "Martyrium Pionii" (22,2-4)"; en Vigiliae Christianae V. 62/1; Leiden; 2008; pp. 35-42.
Kyrtatas, Dimitris; The Social Structure of the Early Christian Communities; Verso; London-New York; 1987.
Lebreton, Jules; "Le desaccord de la foi populaire et de la théologie savante dans l´Eglise chrétienne du IIIe siècle"; en Revue d´histoire ecclésiastique V. 19; Katholieke Universiteit Leuven; 1923; pp. 491-506.
Lieu, Judith; "The Race of the God-Fearers"; en Journal of Theological Studies V. 46/2; Oxford; 1995; pp. 483-501.
Martin, Dale B.; Slavery as Salvation. The Metaphor of Slavery in Pauline Christianity; Yele University Press; New Haven-London; 1990.
Martin, Josef; "Commodianus"; en Traditio 13; Fordham University; 1957; pp. 1-71.
Meillassoux, Claude; Antropología de la esclavitud; Siglo XXI; México D.F.; 1990.
Molthagen, Joachim; Der römische Staat und die Christen im zweiten und dritten Jahrhundert; Vandenhoeck & Ruprecht; Göttingen; 1970.
Monceaux, Paul; Histoire littéraire de l´Afrique Chrétienne depuis les origins jusqu´au l´invasion arabe. Tome Deuxième. Saint Cyprien et son temps; Ernest Leroux; Paris; 1902.
Musurillo, Herbert; The Acts of the Christian Martyrs; Clarendon Press; Oxford; 1972.
Patterson, Orlando; Slavery and Social Death; Harvard University Press; Cambridge–Massachusetts; 1982.
Pomeroy, Sarah; Goddesses, Whores, Wives and Slaves. Women in Classical Antiquity; Schocken Books; New York; (1995) [1975].
Pratten, B. P; "Two Epistles Concerning Virginity. Attributed to Clement of Rome"; en Alexander Roberts and James Donaldson (eds.); The Ante Nicene Fathers Vol viii; Charles Scribner´s Son; New York; 1903; 51-74.
Quasten, Johannes; Patrology. Volume 1. The Beginnings of Patristic Literature. From the Apostles Creed to Irenaeus; Spectrum; Texas; (1995) [1950].
Ramelli, Ilaria L. E.; Social Justice and the Legitimacy of Slavery. The Role of Philosophical Ascetism from Ancient Judaism to Late Antiquity; Oxford University Press; Oxford; 2016.
Rives, James B.; "The Decree of Decius and the Religion of the Empire"; en Journal of Roman Studies V. 89; Cambridge University Press; 1999; pp. 135-154.
Robert, Louis – Bowersock, Glen W.- Jones, Christopher P. (eds,); Le martyre de Pionios, prete de Smyrne; Dumbarton Oaks Research Library and Collection; Washington; 1994.
Scourfield, J. H. David; "The De Mortalitate of Cyprian: Consolation and Context"; en Vigiliae Christianae V. 50/1; Leiden; 1996; pp. 12-41.
Sordi, Marta; Il cristianesimo e Roma; Capelli; Bologna; 1965.
Sordi, Marta; "I rapporti fra il cristianesimo e l´impero dai Severi a Gallieno"; en Hildegard Temporini und Wolfgang Haase (eds.); Aufstieg und Niedergang der Romischen Welt II.23.1; De Gruyter; Berlin; 1979; pp. 340-374.
Spléndido, Mariano; "Exaltación y concordia doméstica. La esclavitud en dos ficciones cristianas: Hechos de Pedro y Hechos de Pablo"; en Trabajos y Comunicaciones V. 38; Universidad Nacional de La Plata; 2012; pp. 185-203.
Staerman, E. M.- Trofimova, M. K.; La esclavitud en la Italia imperial; Akal; Madrid; 1979.
Stark, Rodney; The Rise of Christianity; Princeton University Press; Princeton-NJ; 1996.
Ste. Croix, Geoffrey E. M. de; Voluntary Martyrdom in the Early Church; en Michael Whitby and Joseph Streeter (eds.) Christian Persecution, Martyrdom & Orthodoxy. G. E. M. de Ste. Croix; Oxford University Press; Oxford; 2006; pp. 153-200
Tilley, Maureen A.; "Scripture as an Element of Social Control: Two Martyrs Stories of Christian North Africa"; en Harvard Theological Review V. 83/4; Harvard University; 1990; pp. 383-397.
Trevett, Christine; Montanism. Gender, Authority and the New Prophecy; Cambridge University Press; Cambridge; 2002.
Veyne, Paul; "Vie de Trimalcion"; en Annales (ESC) V. 16/2; École des Hautes Études en Sceinces Sociales; 1961; pp. 213-247.
Veyne, Paul; "Le dossier des esclaves-colons romains"; en Revue historique V. 265; Presses Universitaires de France; 1981; pp. 3-25.
Wischmeyer, Wolfgang; "Der Bishof im Prozess. Cyprian als episkopus, patronus, advocatus and martyr vor dem Prokonsul"; en Antoon A. R. Bastiaesen et alii (eds.), Fructus centesimus Mélanges offerts à Gerar J. M. Bartelink à l´ocassion de son soixante-cinquième anniversaire; FS Gerard Dordrecht J.M. Bartelink; 1989; pp. 363-371.
Wright, Ben G.; "Ebd-Doulos. Terms and Social Status in the Meeting of Hebrew Biblical and Hellenistic Roman Culture", en Semeia V. 83-84; Society of Biblical Literature; 1998; pp. 83-112.
Young, Robin D.; "Martyrdom as exaltation"; en Virginia Burrus (ed.); Late Ancient Christianity; Fortress Press; Minneapolis; 2005; pp. 70-92.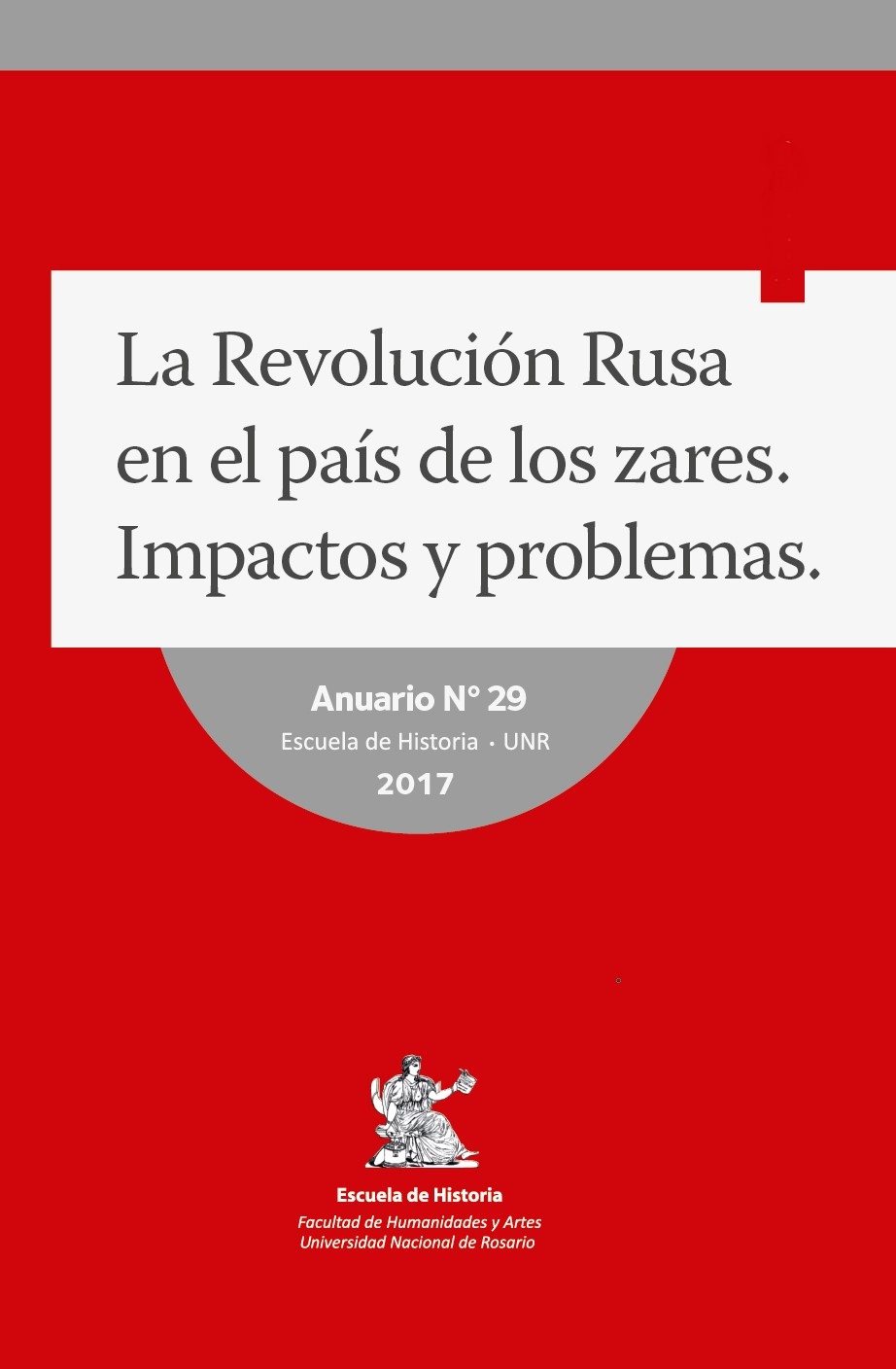 Descargas
Cómo citar
Spléndido, M. (2017). Amos fugados y subordinados sin guía. Esclavos, familia e Iglesia durante las persecuciones de Decio y Valeriano (250-260). Anuario De La Escuela De Historia, (29), 136–160. https://doi.org/10.35305/aeh.v0i29.240
Licencia
Los autores que publican en esta revista están de acuerdo con los siguientes términos:
Al momento de enviar sus contribuciones, los colaboradores deberán autorizar su publicación conservando los derechos de autoría, y transfiriendo a la revista todos los derechos protegidos por las leyes de propiedad intelectual que rigen en Argentina, que implican la edición para difundir la obra en soporte digital en que se aloja la revista. Deberán declarar que poseen el permiso del archivo o repositorio donde se obtuvieron los documentos que se anexan al trabajo, cualquiera sea su formato (manuscritos inéditos, imágenes, archivos audiovisuales, etc.), permiso que los autoriza a publicarlos y reproducirlos, liberando a la revista y sus editores de toda responsabilidad o reclamo de terceros.
Asimismo, los autores deben adherir a la licencia Creative Commons denominada "Reconocimiento - No Comercial- Compartir Igual CC BY-NC-SA", mediante la cual el autor permite copiar, reproducir, distribuir, comunicar públicamente la obra y generar obras derivadas, siempre y cuando se cite y reconozca al autor original. No se permite, sin embargo, utilizar la obra con fines comerciales. Los autores podrán establecer acuerdos adicionales para la distribución no exclusiva de la versión de la obra publicada en la revista (por ejemplo, situarlo en un repositorio institucional o publicarlo en un libro), con el reconocimiento de haber sido publicado primero en esta revista.